Charles Gaines - PF, 6'9, 223

Free agent

- Last played with Zhejiang Chouzou (China, 2016)
Date of birth: 10/15/1981
Country: USA

Drafted (NBA): Undrafted, 2004
Out of: Southern Mississippi

NBA Experience: 0 years
Hand: Right
Chinese Basketball Association Imports, 2010/11, Again
2011-03-13

Charles Gaines - 32 games, 37.4 mpg, 33.7 ppg, 13.5 rpg, 1.9 apg, 2.5 spg, 0.8 bpg, 2.9 TOpg, 61% FG, 0% EPT, 66% FT

Gaines led the league in scoring, ranked 5th in rebounds, and 6th in steals. He was, frankly, rather dominant. He scored below 20 only twice (18 and 19), scored over 40 nine times, and scored over 50 once, recording 52 points and 10 rebounds in only 36 minutes in a February 18th game against Guangdong. However, that game was symptomatic of Qingdao's season - despite Gaines's numbers, alongside Brown's 18/7/8, Qingdao still lost 100-132. Fr all of the import's offense, Qingdao had little domestic help, couldn't stop anybody, and couldn't shoot. No one on the team shot better than 33% from three. In the Guandong came, they shot 6-34 from there. Gaines did his best to do it all, but no one can ever really do that.


[read full post]
Where Are They Now, 2010; Part 60
2010-04-24

A previous post showed a little tizzy featuring Charles Gaines and Du Feng in game two of this year's CBA Finals. What looked initially to be Gaines dropping Feng cold with a swift and well placed right hand later emerged to be a fail of the highest order; after a lame headbutt on Gaines, Feng then went down to the ground like he'd been knocked clean out, whereas pictures of the incident showed that Gaines actually open handed Feng in the mandible. It was a shove more than a punch, and a valid retaliation to a headbutt. So far from being an inevitable suspension, Gaines was absconded from blame. And Feng looked like a big girly wuss.

Both played in game 3. Gaines was not suspended, and Feng (amazingly!) was not dead. Guandong won the game and took a 3-0 lead in the first to 4.


[read full post]
Charles Gaines layeth the smacketh downeth
2010-04-20



That clip is taken from the final seconds of a CBA Finals game. In white are the Guandong Southern Tigers, last year's champions, winners of five of the last six championships, and winners of the regular season title, led by former NBA players Smush Parker and David Harrison. In blue are the Xinjiang Flying Tigers, regular season runners up, led by former Bucks and Spurs signee (and D-League stalwart) Charles Gaines. As can be seen on the mercifully English language scoreboard, the Tigers (Guandong) had just beaten the Tigers (Xinjiang) 85-80 to take a two-nil lead in the series, two games away from repeating as champions.

But rather than be happy about this, Guandong forward Du Feng decides to use these final seconds of celebration to object to Charles Gaines's battling for rebounding position. After a few seconds of flirting under the basket, Feng stands up to Gaines, who stands up for himself in turn, and a man sized face-off (and near kiss) ensues.

Being stronger, Gaines is able to get Feng to back up slightly. But Feng fights back with a headbutt. It's not clear from the video if Feng made particularly painful contact, but it's clear that he did headbutt Gaines in the nose. And that was enough for Gaines to drop him to the floor.

Gaines doesn't have room to put the full force into his punch, but he clearly lands a sweet one. Du drops to the floor and looks kind of dead for several minutes. (He's not.) The court is stormed, the crowd throws bottles onto the court, Gaines is led out under police escort, and Feng escapes with only a concussion, a headache and his life. (Unless he was faking. Which is possible. He only hit his jaw.)

Gaines's punishment has yet to be determined, and will probably be severe. But are you not legally and morally justified to punch someone in the jaw if they headbutt you in the nose?


EDIT: This picture of the incident tells us two important things:

1) Gaines clearly open handed Feng's face, making it even more likely that he was faking. You don't get knocked out from pushes to the jaw.

2) Smush Parker has dreads now.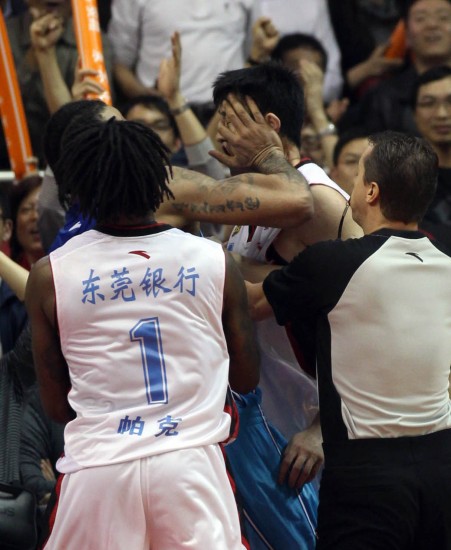 [read full post]
Chinese Basketball Association Statistics, 2010
2010-03-07

- Charles Gaines: 39.0mpg, 30.7ppg, 11.0rpg, 1.5apg, 2.9fpg, 2.1 spg, 1.0bpg, 64% FG, 25% 3PT (1-4) 73% FT

Xinjiang are second in the league with a 24-4 record, and knocked off the first place Guangdong only yesterday. They're doing this largely because of Gaines, whose 30.7ppg average ranks second in the league. (His rebounds per game, which would lead any other significant non-NBA league in the world, rank only tenth in China. God bless this league.) Gaines has only scored less than 20 twice in 28 games, has three 40+ point outings (including 41 in the win over Guangdong) and has 19 double doubles. And while I'm no mathematician, I do believe that's a true shooting percentage of .664%. Handy.


[read full post]
Where Are They Now, 2010; Part 23
2010-02-24
-

Charles Gaines



Charles Gaines is currently 8th in China in rebounds, and 2nd in scoring. Loyal readers will know already that that means big numbers, and Gaines' line doesn't disappoint; 38.8mpg, 29.6ppg, 11.2rpg, 1.5apg, 1.1bpg, 2.1spg, 63% FG, 71% FT. Only a few short hours ago he shot 14-17 en route to 33 points and 8 rebounds in a win over Stephon Marbury's Shaanxi team. Got to love Chinese basketball.


[read full post]
| | | |
| --- | --- | --- |
| | Free Agents | |
Note: Non-US teams that the player has played for are, unless stated otherwise, from the top division in that nation. If a league or division name is expressly stated, it's not the top division. The only exceptions to this are the rare occasions where no one league is said to be above the other, such as with the JBL/BJ League split in Japan.
| | |
| --- | --- |
| Follow this site on: | |