Date of birth: 01/02/1988
Country: USA

Drafted (NBA): 52nd pick, 2010
Out of: Notre Dame

NBA Experience: 3 years
Hand: Right
| | | |
| --- | --- | --- |
| Date | League | Transaction |
| 2010 NBA Draft | NBA | Drafted 52nd overall by Boston. |
| 10th August, 2010 | NBA | Signed a guaranteed two year minimum salary contract with Boston. |
| 24th February, 2011 | NBA | Traded by Boston, along with Semih Erden, to Cleveland in exchange for a 2013 second round pick (#39, Jeff Withey). |
| 26th January, 2012 | D-League | Assigned by Cleveland to Canton Charge of the D-League. |
| 1st February, 2012 | D-League | Recalledby Cleveland from Canton Charge of the D-League. |
| 6th March, 2012 | D-League | Assigned by Cleveland to Canton Charge of the D-League. |
| 14th April, 2012 | D-League | Recalledby Cleveland from Canton Charge of the D-League. |
| 15th April, 2012 | D-League | Assigned by Cleveland to Canton Charge of the D-League. |
| 18th April, 2012 | D-League | Recalledby Cleveland from Canton Charge of the D-League. |
| 11th July, 2012 | NBA | Re-signed by Cleveland to a one year, $1,054,389 contract. |
| 29th November, 2012 | NBA | Waived by Cleveland. |
| 28th December, 2012 | D-League | Designated as a returning player by Canton Charge. |
| 28th December, 2012 | D-League | Traded by Canton Charge, along with a 2013 third round pick, to Fort Wayne Mad Ants in exchange for JaJuan Johnson and a 2013 first round pick. |
| 8th August, 2013 | Russia | Signed a one year contract with Unics Kazan. |
| 13th July, 2014 | Spain | Signed a two year contract with Valencia. |
| 3rd September, 2014 | D-League | Drafted 6th overall in the 2014 D-League Expansion Draft by Westchester Knicks. |
| 22nd June, 2015 | Spain | Left Valencia. |
| 5th August, 2015 | Turkey | Signed a one year contract with Darussafaka. |
| 20th August, 2015 | D-League | Drafted 4th overall in the 2015 D-League Expansion Draft by Raptors 905. |
| 14th June, 2016 | Turkey | Signed a one year extension with Darussafaka. |
| 14th July, 2017 | Germany | Signed a one year contract with ratiopharm Ulm. |
| 23rd August, 2017 | D-League | Drafted 38th overall in the 2017 D-League Expansion Draft by Erie BayHawks. |
| | |
| --- | --- |
| When: | Where: |
| 2006 - 2010 | Notre Dame (NCAA) |
| July 2010 | Boston Celtics (Summer League) |
| August 2010 - February 2011 | Boston Celtics (NBA) |
| February 2011 - June 2012 | Cleveland Cavaliers (NBA) |
| July 2012 | Cleveland Cavaliers (Summer League) |
| July 2012 - November 2012 | Cleveland Cavaliers (NBA) |
| December 2012 - June 2013 | Fort Wayne Mad Ants (D-League) |
| July 2013 | Denver Nuggets (Summer League) |
| August 2013 June 2014 | Unics Kazan (Russia) |
| July 2014 - June 2015 | Valencia (Spain) |
| July 2015 | Phoenix Suns (Summer League) |
| August 2015 - June 2017 | Darussafaka (Turkey) |
| July 2017 - present | ratiopharm Ulm (Germany) |
2010 Summer League Rosters: Boston Celtics
2010-07-06

Luke Harangody



Skillz Train will make the roster and make some shots. It's just awkward that he begins (and maybe ends) his NBA career on the team already with the comparable Glen Davis. Harangody needs to develop an outside stroke, not to replace or negate what he already does, but to compliment it. I never want to see him lose the weird flip thing. It's too effective and too fun.


[read full post]
Tax Payers, Trade Kickers, And Other Deadline Day Bookkeeping
2011-02-26

Not so long ago, the Celtics had five centres; Perkins, Shaquille O'Neal, Jermaine O'Neal, Rasheed Wallace and Semih Erden. They had more centres than they had roster spots for them, and had done it this way on purpose. But Rasheed followed through on his retirement plans, Shaq has struggled to stay healthy, and Jermaine lost that same struggle four years ago. Not even Erden exists any more; like Daniels, he and the Skillz Train were pawned off to the Cavaliers in exchange for a second round draft pick, simultaneously opening roster spots and saving money. Without him on the bench, the Celtics become even shallower. The team that has to go through Dwight Howard now has to do so while relying on Nenad Krstic and Big Baby at centre.


[read full post]
Sham's 2010 NBA Draft Night Recap, Part 2
2010-06-27



Pick 52:

Boston drafts The Skillz Train, Luke Harangody. Why am I determinedly calling Luke Harangody, The Skillz Train? Well, because, you know. Just look at him.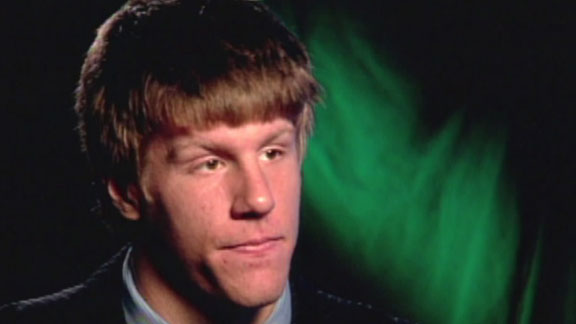 That man is certainly skilled, but he sure doesn't look like he should be.

The Skillz Train plays a lot like Glen Davis. This would be good for his NBA prospects, were he not on the team that already has Glen Davis. Gody never really posted up a great deal at Notre Dame; instead, he knew how to float to get open, and could make shots around the basket with those cackhanded hookshots of his, and hit some outside shots with that cackhanded jumper. He is no slasher and as of right now is no three point shooter; then again, neither was Matt Bonner back in the day. If Skillz Train takes that career arc instead, it might not be a bad thing.

Who's he going to defend in the NBA? Simple. No one. He'll just have to score enough for that not to matter. And if he can't, then he just won't stick.


[read full post]
Note: Non-US teams that the player has played for are, unless stated otherwise, from the top division in that nation. If a league or division name is expressly stated, it's not the top division. The only exceptions to this are the rare occasions where no one league is said to be above the other, such as with the JBL/BJ League split in Japan.
| | |
| --- | --- |
| Follow this site on: | |