| | | |
| --- | --- | --- |
| | Kenneth Faried - PF, 6'8, 228 | |
Date of birth: 11/19/1989
Country: USA

Drafted (NBA): 22nd pick, 2011
Out of: Morehead State

NBA Experience: 6 years
Hand: Right
| | | |
| --- | --- | --- |
| Date | League | Transaction |
| 2011 NBA Draft | NBA | Drafted 22nd overall by Denver. |
| 9th December, 2011 | NBA | Signed four year, $6,183,368 rookie scale contract with Denver. Included team options for 2013/14 and 2014/15. |
| 22nd October, 2012 | NBA | Denver exercised 2013/14 team option. |
| 29th October, 2013 | NBA | Denver exercised 2014/15 team option. |
| 8th October, 2014 | NBA | Signed a four year, $50 million extension with Denver. |
| | |
| --- | --- |
| When: | Where: |
| 2007 - 2011 | Morehead State (NCAA) |
| June 2011 - present | Denver Nuggets (NBA) |
An Unnecessarily Exhaustive Guide To The 2010/11 NCAA Tournament, Part 1: Southwestern Region
2011-03-15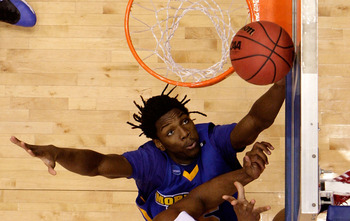 Morehead State consist of Kenneth Faried, and then a bunch of other players. Faried is the best rebounder in the nationa, and it is not even especially close. He ranks first in the nation in defensive rebounding percentage, ranks first in offensive rebounding percentage, and just broke Tim Duncan's all-time Division 1 rebounding record. Duncan grabbed 1,570 in his NCAA career; Faried has 1,648 and counting. He scores, too, improving both his jumpshot and his interior finishing, putting up 17.6 points per game and shooting 64.4% from the floor. And then there's the 4.4 stocks per contest.

The other guys are headed up by Demonte Harper, not a bad rebounder himself, a small scoring guard and pseudo point guard with a worryingly huge turnover rate. But despite Harper's 16 points per game, it is, nonetheless, still all about Faried. For all of Kenneth's Rodman-like contributions, Morehead State lack a point guard, can't shoot a foul shot, have no real size (Faried has a small forward's body), don't defend the three, turn it over too much and can't hit a foul shot. This season, then, will be much like the last time they made the tournament in 2009 - a quick first round exit, highlighted by Faried's awesomeness.


[read full post]
Sham's 2010 NBA Draft Night Recap, Part 1
2010-06-27

Cousins is the right pick for Sacramento, for they needed a big man. There were of course a multitude of other big man options in this size-laden draft, but Cousins represents the best chance of stardom. He is better than Favors right now. He has NBA size, great strength, athleticism as well, soft hands, a deft touch, footwork, and the ability to score in the post going either left or right. Moreover, he is a prolific rebounder, who grabbed as-near-as-is 10 rebounds per game list year in only 23 minutes. That's an unbelievably good rebounding rate, particularly in view of the 35 second shot clock that sees less possessions per game. Cousins ranked 28th in the nation in defensive rebounding percentage last season, and ranked second offensively: the only player with significant minutes in the NBA last season to come close to Cousins's 19.1% ORB% is the man he may replace in Sacramento, Jon Brockman (18.2%). DeJuan Blair (16.0%) is comparatively a mile behind.

(If you didn't click that first link about defensive rebounding percentage, click it this time, and see first hand quite how unbelievable Kenneth Faried's numbers are. He only plays in the Ohio Valley Conference, but look for him in next year's draft, and expect to see that number again. 36.2% of defensive rebounds? The entire Warriors team barely gets that many.)


[read full post]
2017 NBA Manifesto
2017-06-29

Kenneth Faried
PF, 6'8, 228lbs, 27 years old, 6 years of experience

There was the usual Manimal stuff, or at least there was once he was allowed to pair with Jokic (with whom he formed a strong offensive understanding), rather than sharing a clogged lane with Jusuf Nurkic. His minutes were down, and may continue to be down going forward given the breakout of Jokic, the impending breakout of Hernangomez and the acquisition of Plumlee. But per minute, Faried still did what he always does; throwing himself at the rim, expending energy, going to the glass, and having an impact defensively through playing hard. His usefulness going forward may mostly lie in trade. But in proving himself to be a willing and capable role player with a fairly unique approach to the game, he has proven his trade value.

Player Plan: Two years with a combined circa. $26.7 million remaining. That is both a very tradeable contract and a player very much worth having, and not just on this team.


[read full post]
2011 NBA Draft Diary
2011-06-25



Pick 22:

Denver makes the very correct pick, choosing Kenneth Faried from Morehead State. Earlier in the evening, Jon Barry had suggested to Jay Bilas that Faried was "possibly" the best remaining rebounder in the draft, a juicy hanging slurve that Jay emphatically dispatched. Kenneth Faried was not possibly the best rebounder in the country last season. Kenneth Faried was the best rebounder in the country last season, and it was not, even, freaking, close.

Faried is in the building, holding a small baby, presumably his own. For all his innate, endless hustle on the court, he does not exactly hustle to the stage, but this gives time for Mark Jones - who might have thought his night was over - to resume his thoroughly awkward position off to the side of the stage. In his post-pick interview, Faried talks about the size of the party he is going to throw tonight. If you don't like Kenneth Faried, I don't understand you.


[read full post]
Sham's unnecessarily great big draft board: Power Forwards
2011-06-24



Kenneth Faried

- My Kenneth Faried love goes a long way. Faried was the NCAA's best rebounder last season, by a long way, by any metric, and the fact that he played in a mid=major conference doesn't change that. He did it against the good teams, too; 18 against Florida, 12 against Ohio State, 17 against Louisville, 13 against Richmond. And even if the offense is not refined, the athleticism and hustle is sufficient to make an impact. Same on the defense.

The fact that he's only about 6'7 doesn't change anything. Measurements needn't matter as much as they do. He's not going to forget how to rebound, how to read the ball off the rim, how to get positioning, how to box out without fouling, how to tip the ball, how to work hard and hustle for everything. It'll make it harder, yet it's something he's simply too good at to not continue to be good at. Kenneth Faried is going to be a good contributor in the NBA and I will punch anyone who disagrees.


[read full post]
NBA Fantasy Preview - 28th November 2017
2017-11-28

Faried has started two of the last three games yet been benched entirely for the one in between. It is hard to know how the Nuggets' power forward rotation will be handled in Millsap's absence; indeed, even head coach Mike Malone doesn't seem to truly know. Yet it appears as though Faried will be the primary option, however sporadic of one he will be. And while it is hard to entirely value someone whose status in the rotation can change nightly, Faried got no worse as a player from his former productive self. His role just changed. The variance here is high, but the price isn't, and Faried should be considered.


[read full post]
NBA Fantasy Preview - 24th November 2017
2017-11-24

Regular power forward starter Paul Millsap will be out for a while, and in his absence, Kenneth Faried figured to be the main power forward starter. He was for the first Millsap-less game, at least, yet was then benched for the second Millsap-less game versus Houston in favour of a small ball line-up featuring the dual small forward pairing of Wilson Chandler and Will Barton (to the direct benefit of Hernangomez, who thereby became the primary backup perimeter forward).

However, this line-up did not work. Denver got hosed in that game, trailing by as many as 48 in an eventual 30-point loss, and there is no point following that formula again when that formula emphatically did not work. Chandler, who has been poor all year not helped by injury, was particularly ineffectual as a power forward, moreso than Faried had been in the game prior.

Be they wins or losses, none of Denver's last six games have been decided by less than 16 points, and the lop-sidedness of these results can show anomalous minute rotations amongst the players, especially the hitherto infrequently used ones. Consistently good, though, has been Lyles, who has barely received a rotation minute all year but has been productive at every opportunity he has had. In the last three games, Lyles has averaged 18 fantasy points. If Faried and Chandler both failed, maybe it is now his turn.

In short, then, while the minutes on any given night of any of the three is in a state of flux, all are good candidates to play more going forward, and all are productive when they do. After all, right now, nobody's in their way.


[read full post]
NBA Fantasy Preview - 22nd November 2017
2017-11-22

Despite not changing as a player in any conceivable way, Faried's fantasy value has been decimated this season by the arrival of Paul Millsap ahead of him, and also not helped by the additions and retentions of Mason Plumlee, Trey Lyles, Darrell Arthur, Tyler Lydon and Juancho Hernangomez. All of whom could take his minutes. Now marginalised as a backup four, Faried is down to only 10.7 minutes per game against a career average of 25.2. Nevertheless, he started the last game in Millsap's absence, recording 6 points, 7 rebounds, a steal, a block and 20.4 fantasy points. With Millsap set to be out for a while with wrist surgery, Faried becomes a fantasy candidate again. Maybe.


[read full post]
| | | |
| --- | --- | --- |
| | Denver Nuggets | |
Note: Non-US teams that the player has played for are, unless stated otherwise, from the top division in that nation. If a league or division name is expressly stated, it's not the top division. The only exceptions to this are the rare occasions where no one league is said to be above the other, such as with the JBL/BJ League split in Japan.
| | |
| --- | --- |
| Follow this site on: | |