Xavier Henry - SG, 6'6, 220

Free agent

- Last played with Oklahoma City Blue (D-League, 2017)
Date of birth: 03/15/1991
Country: USA

Drafted (NBA): 12th pick, 2010
Out of: Kansas

NBA Experience: 5 years
Hand: Left
| | | |
| --- | --- | --- |
| Date | League | Transaction |
| 2010 NBA Draft | NBA | Drafted 12th overall by Memphis. |
| 24th September, 2010 | NBA | Signed four year, $9,716,410 rookie scale contract with Memphis. Included team options for 2012/13 and 2013/14. |
| 4th January, 2012 | NBA | As a part of a three team deal, traded by Memphis to New Orleans, along with a protected 2012 second round pick to Philadelphia (#54, Tornike Shengelia), in exchange for Marreese Speights from Philadelphia. |
| 24th January, 2012 | NBA | New Orleans exercised 2012/13 team option. |
| 18th March, 2012 | D-League | Assigned by New Orleans to Iowa Energy of the D-League. |
| 19th March, 2012 | D-League | Recalled by New Orleans from Iowa Energy of the D-League. |
| 29th October, 2012 | NBA | New Orleans declined 2013/14 team option. |
| 5th September, 2013 | NBA | Signed an unguaranteed one year minimum salary contract with L.A. Lakers. |
| 27th February, 2014 | D-League | Assigned by L.A. Lakers to Los Angeles D-Fenders of the D-League. |
| 2nd March, 2014 | D-League | Recalled by L.A. Lakers from Los Angeles D-Fenders of the D-League. |
| 25th July, 2014 | NBA | Re-signed by L.A. Lakers to a one year, $1,082,000 contract. |
| 15th November, 2014 | D-League | Assigned by L.A. Lakers to Los Angeles D-Fenders of the D-League. |
| 16th November, 2014 | D-League | Recalled by L.A. Lakers from Los Angeles D-Fenders of the D-League. |
| 22nd November, 2014 | D-League | Assigned by L.A. Lakers to Los Angeles D-Fenders of the D-League. |
| 23rd November, 2014 | D-League | Recalled by L.A. Lakers from Los Angeles D-Fenders of the D-League. |
| 28th December, 2014 | NBA | Waived by L.A. Lakers. |
| 19th October, 2015 | NBA | Signed an unguaranteed one year minimum salary contract with Golden State. |
| 23rd October, 2015 | NBA | Waived by Golden State. |
| 2nd November, 2015 | D-League | Designated as an allocated player by Santa Cruz Warriors. |
| 9th September, 2016 | NBA | Signed an unguaranteed one year minimum salary contract with Milwaukee. |
| 20th September, 2016 | NBA | Waived by Milwaukee. |
| 25th October, 2016 | D-League | Designated as a returning player by Santa Cruz Warriors. |
| 30th October, 2016 | D-League | Traded by Santa Cruz Warriors to Oklahoma City Blue in exchange for a 2016 first round pick. |
| | |
| --- | --- |
| When: | Where: |
| 2009 - 2010 | Kansas (NCAA) |
| June 2010 - January 2012 | Memphis Grizzlies (NBA) |
| January 2012 - June 2013 | New Orleans Hornets (NBA) |
| September 2013 - December 2014 | L.A. Lakers (NBA) |
| October 2015 | Golden State Warriors (NBA) |
| November 2015 - June 2016 | Santa Cruz Warriors (D-League) |
| September 2016 | Milwaukee Bucks (NBA) |
| October 2016 | Santa Cruz Warriors (D-League) |
| October 2016 - June 2017 | Oklahoma City Blue (D-League) |
Addendum to the Xavier Henry thing
2011-09-18
Creative Financing in the NBA, 2010
2010-08-12

The only two players from the 2010 draft that have not signed theirs are the two picks that the Grizzlies didn't sell; Xavier Henry (#12) and Greivis Vasquez (#26).

Nothing is said about why Vasquez hasn't signed, although the fact that he just had his ankle scoped may well factor. Henry, however, is the subject of a broo-haha. A rum-do. A fracas. A rumpus. Henry - or perhaps more specifically, Henry's agent Arn Tellem - are offended at the Grizzlies suggestion that Henry sign a rookie contract that includes performance-related incentives. He sat out of summer league play due to the drama, ensuring that the beef has been taken public, and the Grizzlies have thus been made to look like a cheap, reprehensible franchise.

However, as we learnt in the above quote from last year's post, the inclusion of said incentives is standard practice. So what's the problem?

[continued]


[read full post]
Sham's 2010 NBA Draft Night Recap, Part 1
2010-06-27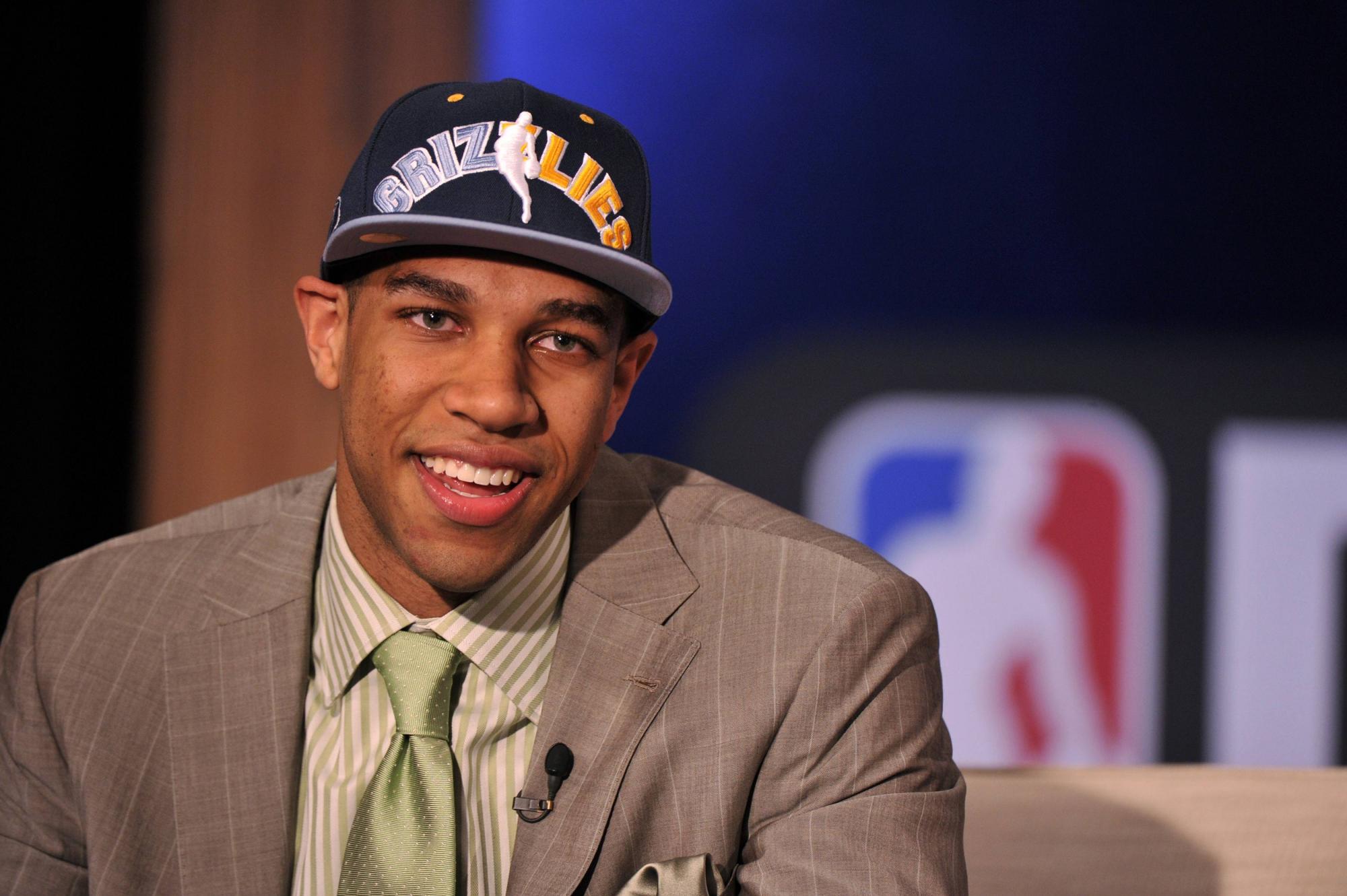 [...] The moves seem to predicate, if not necessitate, O.J. Mayo moving to part-time point guard. I am not convinced of Mayo's ability to do this, but it should at least be a defensive improvement; Henry is a good defensive player, and Mayo should benefit from a size advantage rather than a disadvantage. However, the pairing doesn't figure to do much for Memphis's lack of discipline on the court; the team has plenty of offensive firepower, but just don't play that smart, due in large part to mediocre point guard play. Mayo does not look to be the controlled half-court unselfish and effective point guard that the team needs.

(Like Rubio.)

Stu Scott openly speculates "guess Rudy Gay's not going back", but I'd rather believe that he is, and that Henry will slide in next to him at two guard. If it does not happen, however, Henry and Sam Young will be a reasonably effective small forward combination. But if it does not happen, Memphis will soon be back in the high lottery.

Xavier Henry's biggest weakness as a player is that he pronounces his first name Sharveeyay, which is just inaccurate. Xavier Henry's biggest weakness as a draftee is in trying to match a blue Grizzlies hat with an apple green shirt, a combination that simply doesn't work. He does give a good interview, though, and after the first couple of mumbled and unintelligible interviews (punctuated by Cousins's faux pas), things have perked in that regard. Aldrich in particular was buoyant and interesting, although his comparison of Sherron Collins to Chris Paul was an unforgivable slip.


[read full post]
With a Speight of injuries, Memphis moves for Marreese
2012-01-04

In a three-team deal consummated today, the Memphis Grizzlies have agreed to move unused lottery pick Xavier Henry to New Orleans, receiving unused near-lottery pick Marreese Speights from Philadelphia in return, with both teams giving a second round pick to the Sixers for their troubles.

The trade gives New Orleans a 20-year-old lottery talent whom, while he has yet to do anything in the NBA, has plenty of time on his side. Despite the implosion and sideshow that accompanied their dismantling, New Orleans has a good base of talent for a rebuilding team. With Eric Gordon and Carl Landry in place, and potential young pieces such as Al-Farouq Aminu, Jason Smith and Gustavo Ayon (whom you will soon come to love) also on the scene, this is not an early 21st-century Bulls team. A clear foundation is already in place, and Henry theoretically adds to this.


[read full post]
The Value of Minimum Contracts In The NBA
2013-10-07

The most fun part of preseason is being able to get wildly carried away with the results and performances in the mostly meaningless games. This is particularly true of the performances of individual players who simply were not expected to shine, but did.

Two such players have already shown their faces, in Houston's Omri Casspi and the L.A. Lakers's Xavier Henry. Casspi shot 9-10 for 20 points on his debut, whilst Henry topped that with 29 in his, an impressive amount for a player whose career high to this point is only 19.

Whilst this level of production is obviously not sustainable, Casspi and Henry are set to earn only the minimum salary next season. Casspi's is fully guaranteed, but Henry's isn't even guaranteed for one single dollar. These two players, then, have shown they could potentially be valuable contributors for as good of as value as is possible.

Casspi has struggled since his rookie season when he showed true promise as a free roaming off-the-ball offensive player, but who started to succumb to similarly free roaming tendencies defensively. Henry, meanwhile, was nothing short of poor in his first three seasons, struggling badly to make a shot from any portion of the court, not being able to create any, and not being consistent with his potentially good defense. There's a reason these players were available for so cheap – they weren't working out, and multiple teams had given up on them ever doing so.

However, this doesn't mean the players are, or suddenly became, talentless. Casspi and Henry were first round picks as recently as four and three years ago, respectively, and are 25 and 22 years old. There is still some talent in the fire. Someone just needs to throw a log on it.


[read full post]
Deadline looms for these unguaranteed players
2014-01-03

L.A. Lakers - Xavier Henry, Shawne Williams, Ryan Kelly and Kendall Marshall: In the midst of his breakout season, Henry is guaranteed to survive, and despite his usual inconsistencies, Williams has done enough (5.0 ppg, 4.9 rpg) to do so too. Kelly has barely played for the big league club, but has been one of the best players in the D-League thus far, as has the much improved-shooting Marshall, who also now has the benefit of being the Lakers's only healthy point guard. All four may survive.


[read full post]
| | | |
| --- | --- | --- |
| | Free Agents | |
Note: Non-US teams that the player has played for are, unless stated otherwise, from the top division in that nation. If a league or division name is expressly stated, it's not the top division. The only exceptions to this are the rare occasions where no one league is said to be above the other, such as with the JBL/BJ League split in Japan.
| | |
| --- | --- |
| Follow this site on: | |