Yao Ming - C, 7'6, 310

Retired

- Retired after 2017 season
Date of birth: 09/12/1980
Country: China

Drafted (NBA): 1st pick, 2002
Out of: Shanghai Sharks (China)

NBA Experience: 9 years
Hand: Right
| | | |
| --- | --- | --- |
| Date | League | Transaction |
| 15th August, 2000 | ABA | Drafted 112th overall in the 2000 ABA Draft by Tampa Bay ThunderDawgs. |
| 2002 NBA Draft | NBA | Drafted 1st overall by Houston. |
| 15th October, 2002 | China | Left Shanghai Sharks. |
| 18th October, 2002 | NBA | Signed four year, $18,037,586 rookie scale contract with Houston. Included team option for 2005/06. |
| 16th September, 2004 | NBA | Houston exercised 2005/06 team option. |
| 31st August, 2005 | NBA | Signed a five year, $75,352,750 extension with Houston. Included early termination option after 2009/10 season. |
| 29th June, 2010 | NBA | Declined to exercise early termination option. |
| | |
| --- | --- |
| When: | Where: |
| 1997 - June 2002 | Shanghai (China) |
| June 2002 - June 2011 | Houston Rockets (NBA) |
Chinese Basketball Association Statistics, 2010
2010-03-07
2011 NBA Draft Diary
2011-06-25

[...] Ric Bucher, barely heard from tonight, chimes in to report that Yao Ming will not play for any team other than Houston Rockets, and that he may also never play again. Jeff Van Gundy tries to brighten the mood by reflecting upon how good Yao was and how nice of a person he is, but it's futile. The NBA has lost one of its most unique and entertaining players. It's going to be a hell of a long time before we see another even slightly like Yao.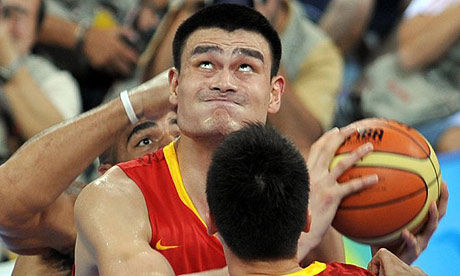 I've really enjoy Yao Ming, and it's a shame we could never enjoy him more.
[read full post]
Bookkeeping The Retired Guys, 2013 Edition
2013-03-19
All-Star memories: Michael Jordan's last hurrah
2012-02-26

[...] The All-Star game itself was not half bad, either. The first and thus far only All-Star game to go to double overtime, it saw 300 total points scored, an in-his-prime Allen Iverson doing what an in-his-prime Allen Iverson did at All-Star games, and an in-his-prime Kevin Garnett dominate proceedings on his way to the MVP trophy. Shaq faced off with Brad Miller for the first significant time since Shaq tried to kill him, an amusing in-game report spoke of Antoine Walker and Paul Pierce's outrages at playing so few minutes, Yao Ming looked woefully out of place on his way to two points and two rebounds, and the close finish saw the game's very best turn up the intensity and play at something resembling their very hardest. It was good fun to watch, right down to the Zydrunas Ilgauskas experience. Even the 52 turnovers were aesthetically pleasing.


[read full post]
| | | |
| --- | --- | --- |
| | Retired Players | |
Note: Non-US teams that the player has played for are, unless stated otherwise, from the top division in that nation. If a league or division name is expressly stated, it's not the top division. The only exceptions to this are the rare occasions where no one league is said to be above the other, such as with the JBL/BJ League split in Japan.
| | |
| --- | --- |
| Follow this site on: | |