| | | |
| --- | --- | --- |
| | John Henson - PF/C, 6'11, 229 | |
Date of birth: 12/28/1990
Country: USA

Drafted (NBA): 14th pick, 2012
Out of: North Carolina

NBA Experience: 5 years
Hand: Right
| | | |
| --- | --- | --- |
| Date | League | Transaction |
| 2012 NBA Draft | NBA | Drafted 14th overall by Milwaukee. |
| 10th July, 2012 | NBA | Signed four year, $8,659,181 rookie scale contract with Milwaukee. Included team options for 2014/15 and 2015/16. |
| 19th October, 2013 | NBA | Milwaukee exercised 2014/15 team option. |
| 16th October, 2014 | NBA | Milwaukee exercised 2015/16 team option. |
| 1st October, 2015 | NBA | Signed a four year, $44,000,004 extension with Milwaukee. |
| | |
| --- | --- |
| When: | Where: |
| 2009 - 2012 | North Carolina (NCAA) |
| June 2012 - present | Milwaukee Bucks (NBA) |
An Unnecessarily Exhaustive Guide To The 2010/11 NCAA Tournament, Part 2: Eastern Region
2011-03-16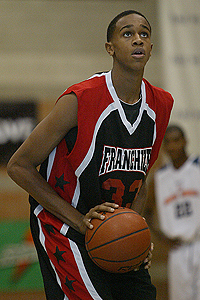 Even here, you get a feel for how long Henson's arms are.



Now a junior, spindly big man John Henson has started to come on. He is very athletic and unbelievably long, a combination he uses to be one of the very best shot blockers in the nation. Henson records 3.1 blocks per game in only 26 minutes a night, and piles in a further 10.1 rebounds on top of that, sensational per-minutes production in both categories. He is also developing offensively, throwing out a couple of post moves on occasion, being a better interior passer than his numbers would suggest, making at least 4 jumpshots on the season, and having quite a strong left hand for a right handed player. Indeed, his right hand is the bad one, as evidenced by his terrible free throw shooting (47%). And as is always the case for one so thin, toughness and ability to handle physical play is an issue. But Henson has made himself a lottery pick if he comes out this season, and his stock will only increase as the Tar Heels's tournament run goes on.


[read full post]
2012 NBA Draft Diary
2012-06-30



Pick 14:

Milwaukee, who had just traded down to get Sam Dalembert, were reported to be trying to trade back up in order to get John Henson. As it turns out, they've gotten him anyway.

Between those two and Ekpe Udoh, Milwaukee has an exceptional shot blocking trio of length and athleticism, if not a great deal of girth. And between those three, Larry Sanders just lost his job. Henson also continues a strong Milwaukee pedigree of right handed big men who are really far better with their left hand. This seems relevant.


[read full post]
2017 NBA Manifesto
2017-06-29

John Henson
PF/C, 6'11 229lbs, 26 years old, 5 years of experience

Despite doing the same sort of thing he has always does - and being underappreciated along the way - Henson went to the bench again, because the others in front of him were better. Tried to counter by taking more jump shots; what had been roughly 1/12th of his offensive game previously became about 1/5th this year. Shot 21.7% on them. Wasn't a positive trend. Henson can come into any game, jump around a bit, drop some lefty hooks (53-100 shooting on hooks this year), rebound a bit, and try to block some shots (well, in previous years at least). He needs to stick with the screening and diving game, running the court, further improving the free throw stroke (sporting a big improvement to 69% this year) and working on the pick-and-roll defence. While the team needs to work on trading him.

Player Plan: Three years and circa. $31.75 million remaining with no options. That's a decent enough price for a third big, which Henson can be, if not here. It seems likely that either him or Monroe will have to go; Monroe might have the bigger trade value, because he's better, and provides a rarer skill set, but he's also expiring sooner. Pick your favourite.


[read full post]
NBA Fantasy Preview - 31st October 2017
2017-10-31

Thon Maker starts at centre for the Bucks, but plays less than half the game. Greg Monroe usually is the primary backup, but he will miss the next two weeks through injury. This presents an opportunity to step up for Henson, who already has stepped up once – in the first Monroe-less game, Henson recorded 12 points, 9 rebounds, 3 assists, 3 blocks and 2 steals before fouling out. Even before that game, Henson was too good to bench entirely, managing to squeeze into the end of the rotation even when Maker and Monroe should have had all the minutes. With an open run in the rotation, he should produce well.


[read full post]
NBA Fantasy Preview - 28th November 2017
2017-11-28

There is the occasional goose egg and the occasional injury; nothing about Henson ever has been or likely ever will be predictable. Nonetheless, Henson has started ten games in a row, averaging 8.8 points, 7.6 rebounds, 2.2 assists and 1.3 blocks per game in doing so. His starting job looks to be under no great threat, thus he remains a value pick for now.


[read full post]
NBA Fantasy Preview - 15th November 2017
2017-11-15

Henson is now listed as a centre in fantasy, an accurate reflection of the fact that he currently starts at that position in every game. As we have mentioned before when he has featured in this column, he is about as streaky as starters get; a 17 point, 8 rebound, 3 assist, 2 block, 37.1 fantasy point night preceded a mere 19.9 fantasy point night, itself coming after nights of 38.4, 12.1, 27.1, etc. He is particularly inconsistent as a player and as a pick. But then, no risk, no reward.


[read full post]
NBA Fantasy Preview - 13th November 2017
2017-11-13

Henson is very sporadic. He is an athlete but an opportunist, lacking great IQ or rhythm, ball skills or consistency, and instead just sort of bouncing around the court, sometimes doing good but sometimes succumbing to silly fouls and being a non-factor. In his last four games, he has put up 27.1, 12.1, 38.4 and 19.9 fantasy points, significant variance for a significant price. Whatever he puts up on any given night, though, he's starting at centre for the foreseeable future.


[read full post]
NBA Fantasy Preview - 7th November 2017
2017-11-07

In Henson's first game as the regular backup centre in light of Greg Monroe's injury, he recorded 12 points, 9 rebounds, 3 assists, 3 blocks, 2 steals and 39.3 fantasy points. We then picked him in this list, only for him to put up only 1 point, 4 rebounds, 3 blocks and a lowly 13.8 fantasy points immediately afterwards. In the two games hence, however, Henson has started over Thon Maker and posted stat lines of 4 points, 10 rebounds, 6 assists and 27.0 fantasy points, followed by 4 points, 13 rebounds, 3 assists and 27.1 fantasy points. Let's risk it again.


[read full post]
| | | |
| --- | --- | --- |
| | Milwaukee Bucks | |
Note: Non-US teams that the player has played for are, unless stated otherwise, from the top division in that nation. If a league or division name is expressly stated, it's not the top division. The only exceptions to this are the rare occasions where no one league is said to be above the other, such as with the JBL/BJ League split in Japan.
| | |
| --- | --- |
| Follow this site on: | |