Date of birth: 05/13/1986
Country: Samoa/Fiji

Drafted (NBA): Undrafted, 2011
Out of: Utah State

NBA Experience: 0 years
Hand: Right
| | | |
| --- | --- | --- |
| Date | League | Transaction |
| 15th June, 2011 | Holland | Signed a one year contract with Eiffel Towers Den Bosch. |
| 9th July, 2012 | France | Signed a one year contract with Rouen. |
| 7th August, 2013 | Holland | Signed a one year contract with Den Bosch. |
| 5th June, 2014 | New Zealand | Signed for the remainder of the season with Southland Sharks. |
| 22nd July, 2014 | Australia | Signed a one year contract with New Zealand Breakers. |
| 6th November, 2014 | New Zealand | Signed a one year contract with Southland Sharks (to join after completion of Australian NBL season). |
| 15th May, 2015 | Australia | Signed another one year contract with New Zealand Breakers (to join after completion of New Zealand NBL season). |
| 13th January, 2016 | New Zealand | Signed a one year contract with Wellington Saints (to join after completion of Australian NBL season). |
| 27th May, 2016 | Australia | Signed a two year contract with Melbourne United (to join after completion of New Zealand NBL season). |
| 8th March, 2017 | New Zealand | Signed a one year contract with Wellington Saints (to take place during Australian NBL offseason). |
| | |
| --- | --- |
| When: | Where: |
| 2004 - 2011 | Utah State (NCAA) |
| June 2011 - June 2012 | Den Bosch (Holland) |
| July 2012 - June 2013 | Rouen (France, ProB) |
| August 2013 - June 2014 | Den Bosch (Holland) |
| June 2014 - July 2014 | Southland Sharks (New Zealand) |
| July 2014 - March 2015 | New Zealand Breakers (Australia) |
| March 2015 - June 2015 | Southland Sharks (New Zealand) |
| June 2015 - May 2016 | New Zealand Breakers (Australia) |
| May 2016 - June 2016 | Wellington Saints (New Zealand) |
| June 2016 - March 2017 | Melbourne United (Australia) |
| March 2017 - June 2017 | Wellington Saints (New Zealand) |
| July 2017 - present | Melbourne United (Australia) |
An Unnecessarily Exhaustive Guide To The 2010/11 NCAA Tournament, Part 3: Southeastern Region
2011-03-17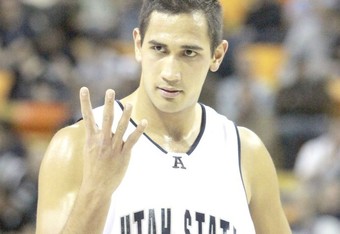 Tai Wesley is doubly impressive when you consider he doesn't have a thumb on his shooting hand.



The Aggies returned pretty much everyone else, most notably 6'7 senior big man Tai Wesley. Wesley is an unathletic but creative post player; he has footwork, moves, touch with both hands, hooks with both hands, and a good passing game from down there, a high IQ player with strength and finesse, and enough of a jumpshot to play away from the basket against much bigger opponents. He chips in with the rebounding, knows how to use his elbows and get away with it, can get open without the ball, generate offense with it, and anchors one of the league's best defenses.


[read full post]
Sham's unnecessarily great big draft board: Power Forwards
2011-06-24



Tai Wesley

- After seven years at Utah State, the now middle aged Wesley begins a professional career. Indeed, he's already begun it, signing for EiffelTowers Den Bosch in Holland. Wesley won't ever crack upper echelon leagues because he's just too small. He's a 6'7 power forward without athleticism, so not even Kyle Hines's career arc is really doable. But he's perfect for Holland, a versatile and incredibly smart player who can run an offense and anchor a defense. In the unathletic Dutch league, Tai finds himself in essentially a professional version of the WAC.


[read full post]
Note: Non-US teams that the player has played for are, unless stated otherwise, from the top division in that nation. If a league or division name is expressly stated, it's not the top division. The only exceptions to this are the rare occasions where no one league is said to be above the other, such as with the JBL/BJ League split in Japan.
| | |
| --- | --- |
| Follow this site on: | |