| | | |
| --- | --- | --- |
| | Jack Cooley - PF/C, 6'9, 245 | |
Date of birth: 04/04/1991
Country: USA

Drafted (NBA): Undrafted, 2013
Out of: Notre Dame

NBA Experience: 1 years
Hand: Right
| | | |
| --- | --- | --- |
| Date | League | Transaction |
| 16th August, 2013 | Turkey | Signed a one year contract with Trabzonspor. |
| 18th August, 2014 | NBA | Signed a partially guaranteed three year minimum salary contract with Utah. |
| 22nd October, 2014 | NBA | Waived by Utah. |
| 30th October, 2014 | D-League | Designated as an allocated player by Idaho Stampede. |
| 24th February, 2015 | NBA | Signed a 10 day contract with Utah. |
| 6th March, 2015 | D-League | Designated as a returning player by Idaho Stampede. |
| 16th March, 2015 | NBA | Signed a partially guaranteed minimum salary contract for the remainder of the season and through 2016 with Utah. |
| 13th October, 2015 | NBA | Waived by Utah. |
| 17th October, 2015 | NBA | Signed an unguaranteed one year minimum salary contract with Cleveland. |
| 23rd October, 2015 | NBA | Waived by Cleveland. |
| 16th November, 2015 | D-League | Designated as a returning player by Idaho Stampede. |
| 4th December, 2015 | D-League | Waived by Idaho Stampede. |
| 4th December, 2015 | Spain | Signed for the remainder of the season with Unicaja Malaga. |
| 5th August, 2016 | Germany | Signed a one year contract with MHP Ludwigsburg. |
| 2nd February, 2017 | D-League | Returning player rights traded by Salt Lake City Stars, along with a 2017 fourth round pick, to Reno Bighorns in exchange for Chane Behanan. |
| 28th July, 2017 | NBA/D-League | Signed a two-way contract with Sacramento/Reno Bighorns. |
| | |
| --- | --- |
| When: | Where: |
| 2009 - 2013 | Notre Dame (NCAA) |
| July 2013 | Houston Rockets (Summer League) |
| July 2013 | Memphis Grizzlies (Summer League) |
| August 2013 - June 2014 | Trabzonspor (Turkey) |
| July 2014 | Memphis Grizzlies (Summer League) |
| July 2014 | Cleveland Cavaliers (Summer League) |
| August 2014 - October 2014 | Utah Jazz (NBA) |
| October 2014 - February 2015 | Idaho Stampede (D-League) |
| February 2015 - March 2015 | Utah Jazz (NBA) |
| March 2015 | Idaho Stampede (D-League) |
| March 2015 - October 2015 | Utah Jazz (NBA) |
| October 2015 | Cleveland Cavaliers (NBA) |
| November 2015 - December 2015 | Idaho Stampede (D-League) |
| December 2015 - June 2016 | Unicaja Malaga (Spain) |
| July 2016 | Chicago Bulls (Summer League) |
| August 2016 - June 2017 | Ludwigsburg (Germany) |
| July 2017 | Sacramento Kings (Summer League) |
| July 2017 - present | Sacramento Kings (NBA)/Reno Bighorns (D-League) |
An Unnecessarily Exhaustive Guide To The 2010/11 NCAA Tournament, Part 1: Southwestern Region
2011-03-15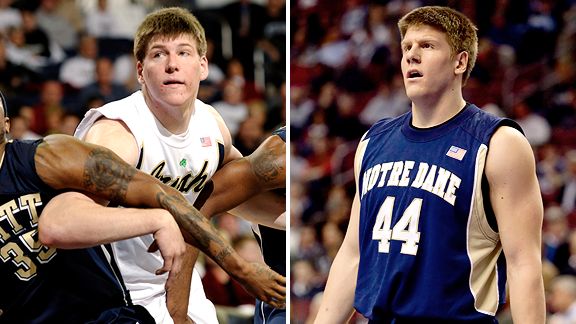 So, that's that out of the way.



(There's also sophomore big man Jack Cooley, whose very name cannot be stated with the inevitable comparisons to Skillz Train being made simultaneously. Yes, they have the same build, and yes, they kind of look the same, if only due to the haircut. But they don't play the same. Not yet.)


[read full post]
2013 Summer League rosters, Orlando Summer Pro League - Houston
2013-07-08

Jack Cooley

Like a smaller version of Nikola Pekovic, Cooley scores from the post and the pick-and-roll with a combination of strength and dexterity, seeking out the contact and able to finish through it. The eternal Harangody comparisons fall down when it comes to Cooley's lack of jumpshot - this, combined with his lack of speed, make it impossible to play the power forward position at the NBA level, which he rather needs to at 6'9. Defensively, there's not a matchup that he projects well against, except maybe Chuck Hayes. Nevertheless, his rebounding rate is prolific, and that, combined with his ability to consistently make shots within 10 feet and from the foul line, is a good combination.

Unfortunately, the "smaller" qualifier there is doing quite a bit of work in that sentence. Pekovic is a horse who can do all this against the biggest and the best, while Cooley, you would assume, isn't. And while rebounding tends to translate better than anything else, it's up for debate whether Cooley's athletic disadvantages would prevent that happening here. Summer league will be a good barometer for him.


[read full post]
| | | |
| --- | --- | --- |
| | Reno Bighorns | |
Note: Non-US teams that the player has played for are, unless stated otherwise, from the top division in that nation. If a league or division name is expressly stated, it's not the top division. The only exceptions to this are the rare occasions where no one league is said to be above the other, such as with the JBL/BJ League split in Japan.
| | |
| --- | --- |
| Follow this site on: | |