Garrick Sherman - C, 6'11, 255

Free agent

- Last played with Jaszbereny (Hungary, 2016)
Date of birth: 08/18/1990
Country: USA

Drafted (NBA): Undrafted, 2014
Out of: Notre Dame

NBA Experience: 0 years
Hand: Right
| | | |
| --- | --- | --- |
| Date | League | Transaction |
| 30th July, 2014 | Poland | Signed a one year contract with AZS Koszalin. |
| 22nd January, 2015 | Poland | Left AZS Koszalin. |
| 6th February, 2015 | Georgia | Signed for the remainder of the season with Dinamo Tblisi. |
| 11th August, 2015 | Holland | Signed a one year contract with Groningen. |
| 23rd November, 2015 | Holland | Left Groningen. |
| 26th November, 2015 | Hungary | Signed for the remainder of the season with FORTRESS Jaszbereny. |
| | |
| --- | --- |
| When: | Where: |
| 2009 - 2011 | Michigan State (NCAA) |
| 2011 - 2014 | Notre Dame (NCAA) |
| July 2014 - January 2015 | Koszalin (Poland) |
| February 2015 - June 2015 | Dinoamo Tblisi (Georgia) |
| August 2015 - November 2015 | Groningen (Holland) |
| November 2015 - June 2016 | Jaszbereny (Hungary) |
Wildly Unnecessarily Lengthy 2014 NBA Draft Board, Part 1: NCAA Centres
2014-06-16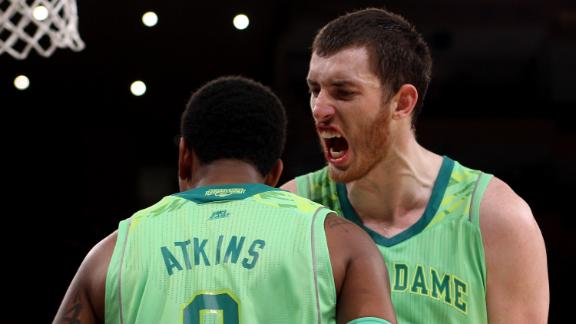 Has anyone ever researched why beards are so often ginger, even when head hair isn't? As a fellow sufferer, I am intrigued.





Garrick Sherman

, Notre Dame, Senior, 6'11 255lbs

2013/14 stats:

28.6 mpg, 13.5 ppg, 7.3 rpg, 0.7 bpg, 0.9 apg, 0.8 spg, 2.8 fpg, 2.6 TOpg, 50.6% FG, 68.9% FT



Sherman transferred to Notre Dame from Michigan State, where he had been barely used and where his offensive responsibilities were as a screener and garbage man, charged with the not-too-difficult task of setting a pick and then getting out of the way. At Notre Dame, he inherited a much greater share of the offensive responsibility, particularly in his senior season on a very depleted Fighting Irish lineup that needed all the scoring help it could get. Because of the team's lack of scoring options, the Shermanator was both often fed in the post and routinely doubled. He was doubled partly because of the team's overall inability to punish them, but also because Sherman struggles extremely badly with double teams.

The reason his turnover numbers are so high is precisely because, if Sherman is doubled, he struggles badly to pass the ball back out, and nor does he have the strength and/or explosiveness to go through it. His recognition to shoot only when he has a good look and is suitably open is coincident with, but certainly not coincidental to, an inability to finish through contact and when challenged by long, strong defenders. Sherman is reasonably mobile and has good post footwork, enough to develop into a decent post-up option in one on one coverage - whilst being a below-the-rim player that barely jumps, Sherman has decent touch around the basket with his strong hand and uses fakes well, a right handed short hook shot combined with a solid enough free throw stroke and an ability to hit cutters when not drawing too much defensive attention. But when smothered, he is so readily stripped that he becomes a liability. It seems odd for such an average offensive option to be such a defensive focal point, but the chances of securing a turnover when doing so are so raised that the entire ACC all feasted on it.

Away from the basket, Sherman uses his Spartans screening training to occasionally play some pick and roll, and has a mid-range jumpshot if left alone. He could have stood to attend a little more of that screen training, however, as he has a tendency to set moving ones. Sherman's rebounding rate picked up as a senior, although this is perhaps partly attributable to the team's overall rebounding problems. Defensively, he moves his feet and rotates, but mostly plays defense with his hands in the air - without the mobility to change direction, rebound outside of his area, step out well or the leap ability to protect the rim, nor the strength to muscle anyone around on the interior, Sherman relies upon positioning and anticipation more than physical tools on the defensive end just as he does on offense, and thus can be found wanting.

While Sherman has clearly been the beneficiary of an expanded role and a change of scenery, the same enhanced opportunities exposed his limitations. There is money to be made somewhere, and progress has been made, but Sherman still has a ways to go.


[read full post]
| | | |
| --- | --- | --- |
| | Free Agents | |
Note: Non-US teams that the player has played for are, unless stated otherwise, from the top division in that nation. If a league or division name is expressly stated, it's not the top division. The only exceptions to this are the rare occasions where no one league is said to be above the other, such as with the JBL/BJ League split in Japan.
| | |
| --- | --- |
| Follow this site on: | |