| | | |
| --- | --- | --- |
| | Tarik Black - C, 6'9, 250 | |
Date of birth: 11/22/1991
Country: USA

Drafted (NBA): Undrafted, 2014
Out of: Kansas

NBA Experience: 3 years
Hand: Right
| | | |
| --- | --- | --- |
| Date | League | Transaction |
| 27th August, 2014 | NBA | Signed a partially guaranteed two year minimum salary contract with Houston. |
| 26th December, 2014 | NBA | Waived by Houston. |
| 28th December, 2014 | NBA | Claimed off waivers by L.A. Lakers. |
| 3rd January, 2015 | D-League | Assigned by L.A. Lakers to Los Angeles D-Fenders of the D-League. |
| 4th January, 2015 | D-League | Recalled by L.A. Lakers from Los Angeles D-Fenders of the D-League. |
| 13th December, 2015 | D-League | Assigned by L.A. Lakers to Los Angeles D-Fenders of the D-League. |
| 14th December, 2015 | D-League | Recalled by L.A. Lakers from Los Angeles D-Fenders of the D-League. |
| 18th December, 2015 | D-League | Assigned by L.A. Lakers to Los Angeles D-Fenders of the D-League. |
| 18th December, 2015 | D-League | Recalled by L.A. Lakers from Los Angeles D-Fenders of the D-League. |
| 20th December, 2015 | D-League | Assigned by L.A. Lakers to Los Angeles D-Fenders of the D-League. |
| 23rd December, 2015 | D-League | Recalled by L.A. Lakers from Los Angeles D-Fenders of the D-League. |
| 2nd January, 2016 | D-League | Assigned by L.A. Lakers to Los Angeles D-Fenders of the D-League. |
| 3rd January, 2016 | D-League | Recalled by L.A. Lakers from Los Angeles D-Fenders of the D-League. |
| 8th January, 2016 | D-League | Assigned by L.A. Lakers to Los Angeles D-Fenders of the D-League. |
| 14th January, 2016 | D-League | Recalled by L.A. Lakers from Los Angeles D-Fenders of the D-League. |
| 30th January, 2016 | D-League | Assigned by L.A. Lakers to Los Angeles D-Fenders of the D-League. |
| 31st January, 2016 | D-League | Recalled by L.A. Lakers from Los Angeles D-Fenders of the D-League. |
| 23rd August, 2016 | NBA | Re-signed by L.A. Lakers to a partially guaranteed two year, $12,846,325 contract. |
| 1st July, 2017 | NBA | Waived by L.A. Lakers. |
| 17th July, 2017 | NBA | Signed a one year, $3,290,000 contract with Houston. |
| | |
| --- | --- |
| When: | Where: |
| 2010 - 2013 | Memphis (NCAA) |
| 2013 - 2014 | Kansas (NCAA) |
| July 2014 | Houston Rockets (Summer League) |
| August 2014 - December 2014 | Houston Rockets (NBA) |
| December 2014 - June 2019 | L.A. Lakers (NBA) |
| July 2017 - present | Houston Rockets (NBA) |
2017 NBA Manifesto
2017-06-29

Tarik Black
C, 6'9, 250lbs, 25 years old, 3 years of experience

Black noticeably improved his offensive game this past season, most obviously in the form of a much improved free throw stroke that is now good where previously it was poor. The jump shot is still poor, and never will Black be confused for anything other than a physical, rebounding, fouling post player who should finish around the basket and otherwise avoid trying to score. But at being that, he is good. Black is unguaranteed for next season, but expires after that, and so if the plan is for 2018 cap space, his contract does not interfere with that. He is thus worth keeping; after all, there may be a second round pick floating out there some-where for him.

Player Plan: Expiring and unguaranteed $6,655,325 contract. Even with the addition of Lopez and the breakout of Lopez, it is not worth waiving him and getting the cap space savings.


[read full post]
Wildly Unnecessarily Lengthy 2014 NBA Draft Board, Part 1: NCAA Centres
2014-06-16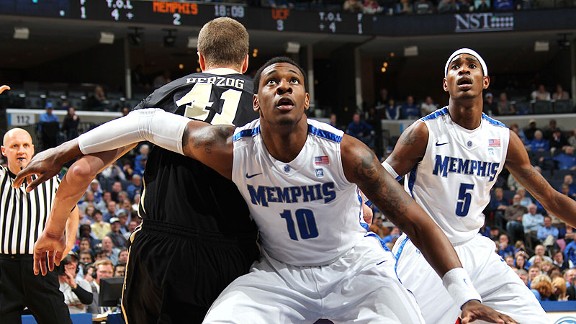 Fundamental part of rebounding - looking the right way. Poor technique, Tom Herzog.





Tarik Black

, Kansas, Senior, 6'9 260lbs

2013/14 stats:

13.5 mpg, 5.5 ppg, 3.9 rpg, 0.5 bpg, 0.3 apg, 0.3 spg, 2.8 fpg, 0.7 TOpg, 69.2% FG, 60.0% FT



Slightly undersized height wise for the position, Black has added a ton of muscle to his frame and has a 7'3 wingspan, looking very much like the post player that he is. He is however more of a physical specimen than overly skilled player.

In his three years at Memphis, Black was frustratingly inconsistent in both results and effort, and frustratingly foul prone. The latter one never changed - Black fouls EVERYBODY, through clattering into the defender wildly on the offensive end, hitting every driver who comes his way on defense, and shoving everybody who seeks to get position on him at any time. Nevertheless, he improved at the first two things in his time at Kansas, and became an effective backup off the bench. He was no replacement for Embiid, obviously, yet he would have an impact on the game in his limited minutes and use his physicality on both ends.

Black's exceedingly efficient offensive game comes from his power, explosion and athleticism. He is a finisher not a creator, but he's a rugged one who will take it at anyone, clumsy or not, and is strong enough to go through them. Rarely asked to create, Black nevertheless has the motor and position awareness to get open off the ball, as well as the tenacity to fight for position. He will also run the court well for his size, always pursuing the ball if not always receiving it, and has improved his footwork to finish in the post with reverses and step throughs.

On both ends, though, Black's is a rather limited game. Offensively, Black does not handle, take any shot outside of about two feet, pass, drive, defend the perimeter or do much outside of what is availed to him by his physical tools. He is very rarely asked to create in the post and is very predictable when heh does - it is not team needs that restrict him to being a finisher rather than his own limitations. Defensively, he also is still prone to occasionally switching off on the glass and the interior defense, albeit less so than he was. Black's physicality, strength and athleticism can be disruptive presences inside the paint, a decent rebounder and effective man to man defender when plugged in, a wall you don't want to run into if not the best help side rim protector. But the fouls offset it a bit.

Despite all of the above, Black might go into football instead of basketball. Couldn't blame him if he did. Yet if he stays with the roundball game, there's money to be made.


[read full post]
| | | |
| --- | --- | --- |
| | Houston Rockets | |
Note: Non-US teams that the player has played for are, unless stated otherwise, from the top division in that nation. If a league or division name is expressly stated, it's not the top division. The only exceptions to this are the rare occasions where no one league is said to be above the other, such as with the JBL/BJ League split in Japan.
| | |
| --- | --- |
| Follow this site on: | |