Date of birth: 09/28/1990
Country: USA

Drafted (NBA): Undrafted, 2014
Out of: Utah State

NBA Experience: 0 years
Hand: Right
| | | |
| --- | --- | --- |
| Date | League | Transaction |
| 23rd October, 2014 | Turkey | Signed a one year contract with Mamak Belediye. |
| 31st October, 2015 | D-League | Drafted 18th overall in the 2015 D-League Draft by Santa Cruz Warriors. |
| 12th January, 2016 | D-League | Waived by Santa Cruz Warriors. |
| 3rd September, 2016 | Argentina | Signed a one year contract with Hispano Americano de Rio Gallegos. |
| 20th October, 2016 | Argentina | Left Hispano Americano de Rio Gallegos. |
| 5th December, 2016 | Indonesia | Drafted 11th overall in the 2016 Indonesian IBL Import Draft by M88 Aspac Jakarta. Concurrently signed a one season contract. |
| 5th June, 2017 | Thailand | Signed a one season contract with Hitech Thonburi. |
| 6th September, 2017 | Japan | Signed a one year contract with Fukushima Firebonds. |
| | |
| --- | --- |
| When: | Where: |
| 2009 - 2011 | Oklahoma State (NCAA) |
| 2011 - 2014 | Utah State (NCAA) |
| July 2014 | Charlotte Hornets (Summer League) |
| October 2014 - June 2015 | Mamak Belediye (Turkey, TBL2) |
| October 2015 - January 2016 | Santa Cruz Warriors (D-League) |
| September 2016 - October 2016 | Rio Gallegos (Argentina) |
| December 2016 - June 2017 | M88 Aspac Jakarta (Indonesia) |
| June 2017 - August 2017 | Hitech Thonburi (Thailand) |
| September 2017 - present | Fukushima (Japan, D2) |
Wildly Unnecessarily Lengthy 2014 NBA Draft Board, Part 1: NCAA Centres
2014-06-16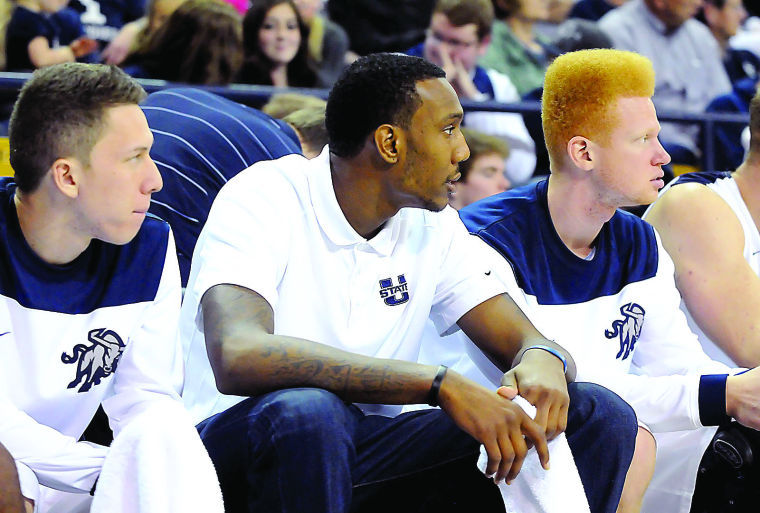 Not the one on the right. Sadly.





Jarred Shaw

, Utah State, Senior, 6'10 235lbs

2013/14 stats:

27.2 mpg, 14.1 ppg, 8.3 rpg, 1.1 bpg, 0.9 apg, 0.2 spg, 3.1 fpg, 1.9 TOpg, 48.3% FG, 78.2% FT



Oklahoma State transfer Shaw downgraded in standard of competition for a big upgrade in playing time. As it happens, he probably could have stayed with the Cowboys and played big minutes. Nevertheless, by joining the Aggies as their main big man, Shaw got himself plenty of opportunity, particularly on the offensive end.

The offensive end is his better end. Decently sized but not especially long, fast or strong, Shaw scores his points through a solid contingent of offensive skills. He utilises a mid range jumpshot well and is an option in pick and pop plays, an ability further manifested in his strong free throw shooting numbers. He also can throw a few moves in the post - with the ability to palm the ball, Shaw can throw an up and under to get open or take the turnaround jumpshot, with decent touch around the basket. He very much favours the right hand, however, and is less effective in the post when up against long and athletic defenders, over whom he prefers to take the jumpshot. He also avoids contact in general, rarely getting to the foul line and without three point range, leaving himself as being one of the most inefficient 48% shooters around. Nevertheless, with more than one offensive skill, Shaw's finesse-based offensive game has its uses. He could probably stand to add range to it pretty quickly.

On the defensive end, things are less certain. Somewhat flat footed, Shaw does not like to defend the perimeter on switches or chase down shooters, much preferring to stay in the paint. In the paint, he has good awareness of when to rotate as a weak side shot blocking, picking up a few in this way without the length or leap of many of the shotblockers above him on this list. But in hnot being all that bulky, Shaw's man to man post defense is something very attackable, and his foul rates speak to his limitations on that end.

A slight concern is Shaw's off-court habits, jailed for 10 days earlier this year for possession of a controlled substance; specifically, for having more marijuana than police believed was for personal use. He is a talented player, but only Belgian league sort of standard, so he cannot afford any more black marks against his name. The previous McGary blurb speaks I feel to the slightly overblown nature of the problem here, yet it is a perception issue more than anything, and perception is what will get him employed. So this pretty much cannot happen again.


[read full post]
Note: Non-US teams that the player has played for are, unless stated otherwise, from the top division in that nation. If a league or division name is expressly stated, it's not the top division. The only exceptions to this are the rare occasions where no one league is said to be above the other, such as with the JBL/BJ League split in Japan.
| | |
| --- | --- |
| Follow this site on: | |