Glenn Bryant - SF, 6'8, 201

Free agent

- Last played with Kairouan (Tunisia, 2015)
Date of birth: 03/22/1990
Country: USA

Drafted (NBA): Undrafted, 2014
Out of: Eastern Michigan

NBA Experience: 0 years
Hand: Right
| | | |
| --- | --- | --- |
| Date | League | Transaction |
| 25th August, 2014 | Montenegro | Signed a one year contract with Mornar Bar. |
| 10th November, 2014 | Montenegro | Released by Mornar Bar. |
| 13th September, 2015 | Tunisia | Signed a one season contract with JS Kairouan. |
| | |
| --- | --- |
| When: | Where: |
| 2009 - 2011 | Arkansas (NCAA) |
| 2011 - 2014 | Eastern Michigan (NCAA) |
| August 2014 - November 2014 | Mornar Bar (Montenegro) |
| September 2015 - December 2015 | JS Kairouan (Tunisia) |
Wildly Unnecessarily Lengthy 2014 NBA Draft Board, Part 3: NCAA Small Forwards
2014-06-18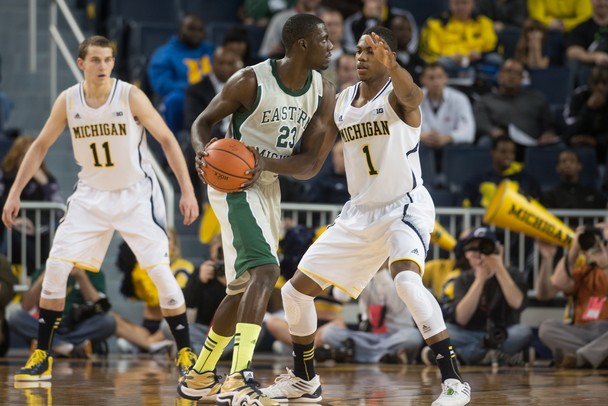 Bad socks IQ.





Glenn Bryant

, Eastern Michigan, Senior, 6'8 201lbs

2013/14 stats: 21.3 mpg, 9.3 ppg, 4.6 rpg, 0.2 apg, 0.9 spg, 1.5 bpg, 0.6 TOpg, 2.0 fpg, 55.7% FG, 12.5% 3PT, 68.9% FT



Bryant is probably the best run and jump athlete on this list. Even moreso than Wiggins, I'll wager. I cannot prove this, of course, yet Bryant is an amazing athlete in a way so rarely seen. And, predictably, there follows some issues with his skill set.

With every facet of his game predicated on his dominant athleticism, it is perhaps self evident that Bryant is a rebounder, shotblocker and transition player. He runs hard and plays a lot of help defense, floating around the Eastern Michigan zone and being incredibly quick to get to wherever he needs to be, almost as good of a shotblocking presence as previously documented shotblocking specialist Da'Shonte Riley. Bryant is feisty and energetic with disruptive length and good timing, and while he sometimes overhelps and misses spots, he is quick to recover. With good timing and anticipation, Bryant is a deterrent and a pest who draws the biggest assignments, and who regularly attacks the glass despite a lack of strength in his frame and limbs.

Offensively, things are a bit less good. Bryant has some offensive skill - his transition game, for one, and a good mid-range pull-up jumpshot that he can shoot over anyone. It is not a shot, however, that has ever developed outside range, as evidenced by his 11-73 three point shooting over the last three seasons. More importantly than this, Bryant has very limited ball handling skills, limited to about two dribbles. He can always rise up for the jumpshot, but he cannot create spacing or looks, and pretty much only just rises up to shoot. Bryant is a face-up player with little post-up offense, which would be fine if he could create these face-up looks or at least hit corners threes. Failing that, he could get open in the half court for these mid-rangersin the half court, like the aforementioned Cameron Clark does. Yet Bryant doesn't. He takes dunks and jumpers if they are there, and can do little to create them if they are not - he has little offensive feel and looks as though he premeditates decisions, regardless of what the defense does. He is efficient and productive on a low usage, but that is what his athleticism avails him, not his skills.

Mind you, it's a useful package in a role player. Give Bryant a quality and more consistent mid range jumpshot, a littany of injuries, a badly worn headband and an enormous contract, take away his desire for help defense and his brilliant intimidating staring ability, and he'd be something approaching Eddie Robinson. Despite the sideshow, Eddie Robinson wasn't bad at all, and Bryant's sheer speed and leaping ability will make him effective somewhere. There are big holes in the skillset, though. Big big holes.


[read full post]
| | | |
| --- | --- | --- |
| | Free Agents | |
Note: Non-US teams that the player has played for are, unless stated otherwise, from the top division in that nation. If a league or division name is expressly stated, it's not the top division. The only exceptions to this are the rare occasions where no one league is said to be above the other, such as with the JBL/BJ League split in Japan.
| | |
| --- | --- |
| Follow this site on: | |