J.J. Moore - SG/SF, 6'6, 215

Free agent

- Last played with Maccabi Rishon (Israel, 2017)
Date of birth: 05/25/1991
Country: USA

Drafted (NBA): Undrafted, 2014
Out of: Rutgers

NBA Experience: 0 years
Hand: Right
| | | |
| --- | --- | --- |
| Date | League | Transaction |
| 27th June, 2014 | Greece | Signed a one year contract with A.G.O. Rethymno. |
| 30th August, 2014 | Greece | Released by A.G.O. Rethymno. |
| 22nd January, 2016 | Mexico | Signed a one season contract with Mineros de Parral. |
| 5th February, 2016 | Mexico | Signed a one season contract with Fuerza Guinda de Nogales (to join after completion of Chihuahua Vive season). |
| 5th March, 2016 | Mexico | Left Fuerza Guinda de Nogales. |
| 30th October, 2016 | D-League | Drafted 58th overall in the 2016 D-League Draft by Long Island Nets. |
| 7th November, 2016 | D-League | Waived by Long Island Nets. |
| 15th November, 2016 | D-League | Acquired by Long Island Nets. |
| 27th March, 2017 | Israel | Signed for the remainder of the season with Maccabi Rishon (to join after completion of D-League season). |
| | |
| --- | --- |
| When: | Where: |
| 2010 - 2013 | Pittsburgh (NCAA) |
| 2013 - 2014 | Rutgers (NCAA) |
| June 2014 - August 2014 | A.G.O. Rethymno (Greece) |
| January 2016 - February 2016 | Mineros de Parral (Mexico, Chihuahua Vive) |
| February 2016 - March 2016 | Fuerza Guinda de Nogales (Mexico, CIBACOPA) |
| October 2016 - April 2017 | Long Island Nets (D-League) |
| April 2017 - June 2017 | Maccabi Rishon (Israel) |
| July 2017 | Brooklyn Nets (Summer League) |
Wildly Unnecessarily Lengthy 2014 NBA Draft Board, Part 3: NCAA Small Forwards
2014-06-18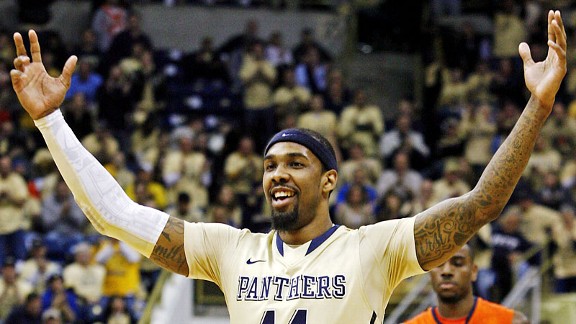 JJ Moore returns from fishing trip with unverifiable claims of success that nevertheless cause Syracuse players to feel envious.





J.J. Moore

, Rutgers, Senior, 6'6 215lbs

2013/14 stats: 26.6 mpg, 11.2 ppg, 2.9 rpg, 0.9 apg, 1.0 spg, 0.4 bpg, 1.0 TOpg, 1.9 fpg, 42.1% FG, 30.0% 3PT, 77.0% FT



Moore has a good physical profile, but never quite found a niche. He spent a couple of years as an offensive spark plug off the bench at Pittsburgh, showing flashes and certainly putting up scoring numbers, but not doing a whole lot else and taking some bad shots. And then, after a junior year in which Jamie Dixon thought he had finally seen Moore take the defensive strides he needed to be a valuable senior season starer, Moore transferred to Rutgers, a team that needed offense as much as anyone. And yet he did not provide a huge amount of it.

Moore's physical profile is good. Long and strong, large and athletic, Moore's physical profile is what makes him a scorer. You have to score something when you're bigger, stronger, faster, and really want to score. It is not a stand-out physical profile by NBA standards, but it is by those of any other league.

However, never has Moore been an especially good shooter, as indicated by always being in the low 30% shooting range from three point range. And his shot selection is not illustrative of this. Moore likes to cast up shots from outside, often when he should be using those tools to get to the basket. He is not a high level ball handler and mostly drives in a straight line, but it is often effective. He thus should use it more. More importantly, that defensive effort Dixon occasionally got him to put in needs to come back.

Going to Rutgers and getting the green light did not help Moore as much as he may have expected it to. It highlighted his offensive limitations while further highlighting his defensive ones. But with those tools remains potential. To achieve his potential, Moore must temper his offensive enthusiasm, spot up better, pass more, get on the glass and perhaps even sometimes in the post, and compete on every defensive possession. There is very high potential in him if he can do that.


[read full post]
| | | |
| --- | --- | --- |
| | Free Agents | |
Note: Non-US teams that the player has played for are, unless stated otherwise, from the top division in that nation. If a league or division name is expressly stated, it's not the top division. The only exceptions to this are the rare occasions where no one league is said to be above the other, such as with the JBL/BJ League split in Japan.
| | |
| --- | --- |
| Follow this site on: | |