Date of birth: 10/11/1992
Country: USA

Drafted (NBA): Undrafted, 2014
Out of: Utah State

NBA Experience: 0 years
Hand: Right
| | | |
| --- | --- | --- |
| Date | League | Transaction |
| 18th August, 2014 | Spain | Signed a one year contract with Mellila Baloncesto. |
| 21st August, 2015 | Lithuania | Signed a one year contract with Juventus. |
| 20th July, 2016 | France | Signed a one year contract with Nanterre. |
| 24th July, 2017 | Germany | Signed a one year contract with ALBA Berlin. |
| | |
| --- | --- |
| When: | Where: |
| 2010 - 2012 | Yuba CC (Junior College) |
| 2012 - 2014 | Utah State (NCAA) |
| August 2014 - June 2015 | Mellila (Spain, LEB Gold) |
| August 2015 - June 2016 | Juventus (Lithuania) |
| July 2016 | Utah Jazz (Summer League) |
| July 2016 - June 2017 | Nanterre (France) |
| July 2017 | Utah Jazz (Summer League) |
| July 2017 - present | ALBA Berlin (Germany) |
Wildly Unnecessarily Lengthy 2014 NBA Draft Board, Part 2: NCAA Shooting Guards
2014-06-17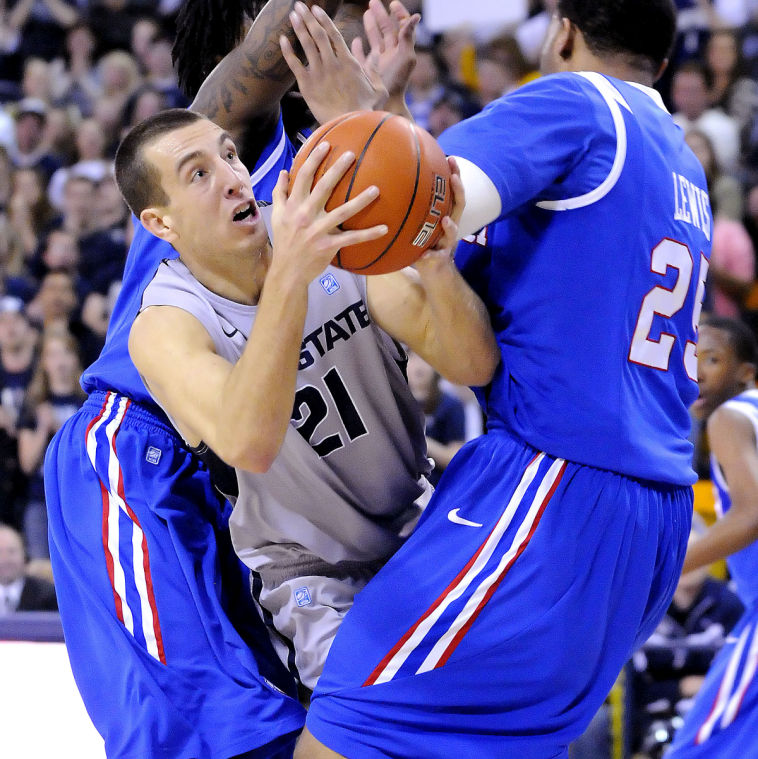 Finding the seams of the defense.





Spencer Butterfield

, Utah State, Senior, 6'3 205lbs

2013/14 stats:

30.5 mpg, 12.9 ppg, 6.2 rpg, 2.5 apg, 0.6 spg, 0.3 bpg, 2.4 fpg, 1.8 TOpg, 46.4% FG, 46.0% 3PT, 82.9% FT



Playing alongside Preston Medlin in a backcourt shooting duo prone to occasional extreme bursts of points, Butterfield was an unconventional but highly effective role player.

Rarely called upon to create, Butterfield plays very hard and has an uncanny knack for being in the right place, as evidenced by his rebounding numbers, thoroughly remarkable from an unathletic 6'3 shooting guard. Without being much of a slasher or creator, Butterfield is a high IQ player who creates for his team through good passing vision and unselfishness, plus the occasional bit of pick and roll action. He moves the ball around, never stopping it, plus he feeds the interior well and cuts off the ball for looks, also using screens effectively when coming off them for jump shots. Dribble drives are very rare and he is not the best ball handler - he played at off-guard for a reason. Nevertheless, toughness and a jump shot can cure a lot of ills.

Small and grounded, in a point guard's body without having shown he is all that capable of playing the point, Butterfield's options for professional play are a bit limited by the physical tools alone. However, efficiency, toughness, IQ and coachability are highly marketable skills. May I recommend Holland? It worked for Zack Novak.


[read full post]
Note: Non-US teams that the player has played for are, unless stated otherwise, from the top division in that nation. If a league or division name is expressly stated, it's not the top division. The only exceptions to this are the rare occasions where no one league is said to be above the other, such as with the JBL/BJ League split in Japan.
| | |
| --- | --- |
| Follow this site on: | |