| | | |
| --- | --- | --- |
| | Khem Birch - PF, 6'9, 220 | |
Date of birth: 09/28/1992
Country: Canada

Drafted (NBA): Undrafted, 2014
Out of: UNLV

NBA Experience: 0 years
Hand: Right
| | | |
| --- | --- | --- |
| Date | League | Transaction |
| 12th September, 2014 | NBA | Signed a partially guaranteed two year minimum salary contract with Miami. |
| 25th October, 2014 | NBA | Waived by Miami. |
| 30th October, 2014 | D-League | Designated as an allocated player by Sioux Falls Skyforce. |
| 30th June, 2015 | Turkey | Signed a one year contract with Usak Sportif. |
| 15th June, 2016 | Greece | Signed a one year contract with Olympiakos. |
| 27th July, 2017 | NBA | Signed a partially guaranteed two year minimum salary contract with Orlando. |
| | |
| --- | --- |
| When: | Where: |
| 2011 - 2012 | Pittsburgh (NCAA) |
| 2012 - 2014 | UNLV (NCAA) |
| July 2014 | Washington Wizards (Summer League) |
| September 2014 - October 2014 | Miami Heat (NBA) |
| October 2014 - June 2015 | Sioux Falls Skyforce (D-League) |
| July 2015 | Brooklyn Nets (Summer League) |
| July 2015 | New Orleans Pelicans (Summer League) |
| June 2015 - June 2016 | Usak (Turkey) |
| June 2016 - June 2017 | Olympiakos (Greece) |
| July 2017 - present | Orlando Magic (NBA) |
Wildly Unnecessarily Lengthy 2014 NBA Draft Board, Part 5: NCAA Power forwards
2014-06-20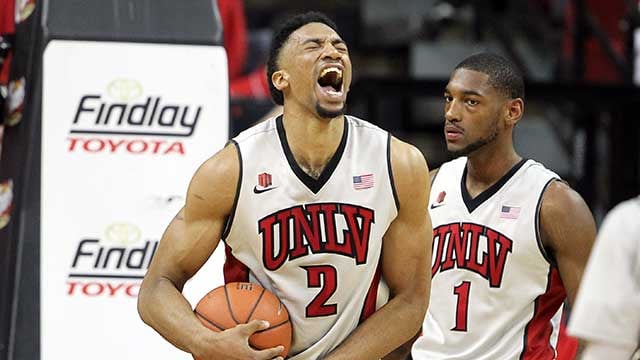 "Gonna take a lot to drag me awaaaaaaay, from yooooooou......"





Khem Birch

, UNLV

2013/14 stats: 31.4 mpg, 11.6 ppg, 10.2 rpg, 1.2 apg, 3.8 bpg, 0.6 spg, 2.3 fpg, 1.3 TOpg, 51.0%, 0.0% 3PT, 69.3% FT



Birch is an exceptional rebounder, one of the best there is and that there can be. He also averaged an enormous 3.8 blocks per game, again about as good as there can be. He hustles and scraps, tracks the ball off the rim, rebounds outside of his area, rebounds over people, and has the length and athleticism to compete with anybody. Birch's thin frame lacks for strength and he can be boxed out, but he can grab the rebound anyway, and will certainly try to. Around the basket, he will swat whatever he can around the rim, has good timing and anticipation, and of course gets up very quickly. In two of the most big man-ny big man areas, Birch is extremely productive.

Everything else is less of a sure thing. On offense in particular, Birch is markedly underskilled, creating almost nothing in the post, not shooting a jump shot with any consistency, not making his foul shots with any consistency, and indeed not even making layups with any consistency. He runs the court, hustles and dunks, but it's opportunistic only and he's plenty subdueable. With his physical profile, Birch should forgo trying to be a post-up player and become a dominant pick-and-roll presence, but he is a long way short of this, and the guards he plays with can only partially be at fault. Birch's offense is underdeveloped to the point that spacing and screen, real fundamental skills, aren't even comfortable for him. The same can be true of his defense; Birch's physical tools allow him to mask many mistakes, but there are many mistakes of the positional and staying-in-front sense. There is an awful lot to do, and Birch is very much a project still.

That said, look at those rebounds. Look at those blocks. Look at that athleticism. Don't look at the bits he can't do; look at the bits he can do that can't be taught. Look at the lack of character concerns that go with it. Is that not worthy of a second round pick and a slow developmental process?


[read full post]
2015 NBA Summer League Rosters - Brooklyn
2015-07-04

[...] Turns out it wasn't; Birch went undrafted and, although he signed a camp contract with the Miami Heat that even included a little bit of guaranteed money, he never made an NBA roster. Birch instead spent the year with the Heat's affiliate, the Sioux Falls Skyforce, and took full advantage of the D-League's high pace with averages of 11.1 points, 9.5 rebounds and 1.8 blocks in only 24.5 minutes per game. My views from before still apply - Birch is not skilled, but he doesn't especially need to be. As rebounders and opportunist scorers go, I'd take him over Cliff Alexander.


[read full post]
| | | |
| --- | --- | --- |
| | Orlando Magic | |
Note: Non-US teams that the player has played for are, unless stated otherwise, from the top division in that nation. If a league or division name is expressly stated, it's not the top division. The only exceptions to this are the rare occasions where no one league is said to be above the other, such as with the JBL/BJ League split in Japan.
| | |
| --- | --- |
| Follow this site on: | |